Mauritius is the one of the most popular and desired honeymoon location. It's no surprise, given the idyllic setting. This explains why there are more luxury and 5-star hotels in this area than anyplace else. While most top hotel management universities, both private and public, organise internships abroad for their students, it may be more intriguing if one ventures outside of their comfort zone and begins looking for their own hotel management internship in Mauritius.
The spectacular structure, stylish décor, and high-quality service are all hallmarks of the premium resorts. You'll get a behind-the-scenes look at first-class restaurants, expert guest relations management, and high-quality cleaning during a hotel management internship in a 5-star hotel abroad one of the island's top hotels.
When you work in a 5-star hotel, you never experience the same day twice. Overseeing hotel operations, ensuring that high-quality cuisine is supplied, and planning day-to-day tour details are all possible job responsibilities in the business. While language skills are always advantageous, it is possible to find a job where English is the only language necessary.
Explore the Internship in a 5-star hotel abroad: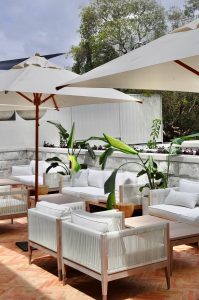 1. The perfect way to learn about the hotel industry
Mauritius is a renowned tourist destination, and a hotel management internship Mauritius here is the perfect way to learn about the hotel industry. You'll get first-hand experience in all aspects of hotel management, from Food & Beverage operations to kitchen and culinary (food production), guest relatings, room services, housekeeping. You'll learn about the inner workings of the hotel industry and will get a first-hand look at what it takes to keep a hotel running smoothly.
2. A chance to work in a luxury setting
Mauritius is home to some of the world's most luxurious hotels, and it hosts guests from all parts and continents of the world. As an intern, you'll have the opportunity to work in one of these spectacular locations, hosting and servicing the most premium class. This is an incredible opportunity to learn from the best in the business and gain international experience.
3. An unforgettable experience
A hotel management internship in Mauritius is an unforgettable experience that will stay with you for a lifetime. You'll not only learn about the hotel industry, but you will also have the opportunity to explore this beautiful island and meet new people from all over the world.
4. Gain international experience
Mauritius is a beautiful island nation located in the Indian Ocean, and an internship here will allow you to gain valuable experience working in a globalized economy. You'll also have the opportunity to explore Mauritius' diverse culture and natural wonders.
5. Get international experience in a fast-growing industry
The hospitality industry is one of the fastest-growing industries in the world. A hotel management internship abroad for Indian students will give you the opportunity to learn about the inner workings of this dynamic industry while gaining invaluable international experience.
6. Learn about a new culture and country
When you intern abroad, you'll have the opportunity to learn about a new culture and country. This is a great way to expand your horizons and get out of your comfort zone.
7. Earn a competitive salary
As an intern, you'll be entitled to a competitive salary that will help offset the costs of living in Mauritius. This will allow you to focus on your internship and career development, without worrying about financial stresses. It allows you to earn money while you gain valuable skills and experience that will help you in your future career.
Services for your internship in Mauritius
Services for internship abroad for Indian students in hotel management include active assistance in planning your whole time abroad. Our partner organization's team in each nation assists you wherever you need it:
Internship/Training Placement in a 4 Star and 5 Star Hotel/Resort property
Placement for an Internship/Training
Creating a contract between the intern and the host hotel/resort
Providing assistance with resident permit visa applications
Providing final resident permit visa
Information about low-cost flights, travel insurance, and other necessary travel papers
Tips and information about leisure activities
Airport pickup and drop off
Assistance and Service in finding an accommodation in the catchment area of your hotel/resort
1 Duty meal
Transportation from home to hotel and back everyday
During your time overseas, you will have a point of contact available to service you throughout your internship period.
24-hour emergency phone number
Simcard
Meetings with all volunteers or interns on a regular basis
What's not included:
Flight tickets
Insurance
Accommodation booking amount
Cost of living
Courier charges to send the documents to Mauritius for Visa
Summary 
Interning abroad is much more than just the things you'll be performing at your workplace. The phrase "abroad" has a lot of clout! Aside from the skills you'll pick up on the job at a hotel, restaurant, tour business, or other industry, you'll be living in another country, another culture, and maybe even another language. Foreign internship for hotel management is one of our most popular internships abroad available in almost all of our locations.
Many 4 Star and 5-Star hotels cater to both business and leisure travellers, so you'll have the opportunity to engage with a diverse range of people. Additionally, if you intern at a chain hotel, you may be eligible for employee discounts at their other sites. Internship in a 5-star hotel abroad will help you land that future position, as well as improve your chances of landing a hospitality job overseas.
Want to hear more about student experiences: Refer to the student experience: https://www.youtube.com/watch?v=oocMY3qV64I
Application are open for International Hotel Management Internships Abroad for the year of 2022-2023, Head out to our page and apply directly from:  Hotel Management Internships