Students all around the world take up Virtual internship. They add quality experience onto your CV from the comfort of your home. Especially during the pandemic, virtual internships are becoming the new normal and many students don't want a huge blank period on their resume. Given the stressful times, being able to manage a work-life at home can be difficult. So, here are a few things you can do to make your virtual internship experience go smoothly and be fruitful: 
Establish a Concrete Communication Medium:

Virtual Internship

 

During a virtual internship, you do not have the luxury to walk up to your supervisor/mentor to update them about your progress or clarify any questions. So, you want to make sure that your work-related communication has a specific medium. You don't want to be sending half information on WhatsApp, then the rest by email, and then the additional on Instagram. This will make things confusing for both you and the people you work with.
Most corporate firms chose separate platforms altogether for work-related conversations. Such as Slack or Telegram, platforms that one doesn't use as frequently or regularly as others. This way the information doesn't get lost in the flood of texts that one receives on a daily basis. Even if your company doesn't use separate platforms, just establish the one you should use while contacting them, just to make sure that you will be able to reach them and vice versa.
Scheduling and Organizing:

Virtual Internship

 
While interning virtually, you are not getting up in the morning and leaving for a 9 to 5 job. You have some flexibility in your hours. However, you need to make sure that those hours are fixed and that you discuss this with your supervisor. If they don't give you specific hours, then set them for yourself.  Setting hours will make you feel organized and help you focus more on the work that you are doing. It will also keep a good balance between your work life and personal life. Communicate the deadlines and urgency of the work that is given to you.
This way you will be able to do priority work during your fixed hours. the rest can be shifted to the next day. Working at home, with no fixed hours can be tricky. One can lose the sense of when they are supposed to work and when they need some time off. Both of which are important for a healthy lifestyle. So, communicate with your supervisor and make sure that both your timelines match during your virtual internship!
Look Past the Laptop Screen:

Virtual Internship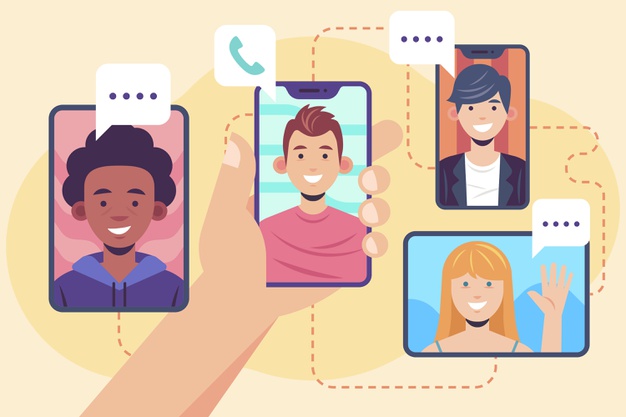 During a virtual internship, all your work is on a screen. The people you work with are also on that screen. You tend to lose the human touch in your working environment this way.  Building a real relationship with your mentor will really help you with a lot of things. All you need to do is set up a video call and have coffee together.
This way, you will get to know them better and understand their requirements better. You will not only be going above and beyond for a workplace relationship but a lifelong network. Sometimes, having open discussions with someone over coffee is more knowledgeable than doing the projects.
Your mentors will talk to you with experience and this is a good time to bring up some questions that you have about your work. A casual setting can really help you understand concepts better without getting nervous. 
This can not be stressed enough, feedback is very important. You need to have regular feedback scheduled at the end of every two weeks or whichever time frame suits your workflow and then one at the end of your virtual internship. This is the moment where you get to know how you performed.
It will not only help you improve your working style but also boost your confidence. You will get to know about the things you could've done differently and how you could've made things better. This is an important step in your growth as a professional. Along with that, you will get to know about what you were good at and the things you did differently that worked better for the firm. Little victories are important for you and you deserve it!
Communicating through a phone-call or email can be tricky. You sometimes can't pick the right words to frame your requirement. So, don't be afraid to ask questions about your assignments. Once you are told what is required of you, do not hesitate to inquire more details about it and then repeat back the assignment to your supervisor.
It is always better to ask twice and do the right thing than ask once, mess up, and then re-do it. Make sure you understand what they are saying and that they understand what you are saying and how you will go about the assignment. Make sure you are on the same page as your supervisor about projects to make sure things didn't get lost in translation. 
There are a million things that you can do, not do, do better and improve on while interning abroad, but, the most important one is to enjoy the work you do and gain knowledge. It is important to love what you do as only them you will be able to ace it.
So get up, open your laptop and find yourself a virtual internship this summer that will make you want to get up in the morning and be excited, even during the pandemic – the easiest way to find a virtual internship will be through PAX Global Virtual Internship Platform from where you can choose to intern in Singapore, Mauritius, and India!  
Global Virtual Internship by Pax Edutainment
A blog by Stuti from Team PAX