You gain a lot of experience while interning abroad. As a student, you get the professional exposure you need. You get to apply your theoretical knowledge in real life as learn from them. This will increase your chances of being extended to a full-time employment opportunity later on in your career. When you intern abroad, all these plus points are amplified! These are a few important soft skills in the workplace!
1. Interpersonal:
Have you ever felt like you aren't able to put forth your ideas properly? Is it hard to get along with people instantly? International internships give you an edge. The reason is twofold. First, you are in a country where the culture and the people are very different than where you come from. So, conversing and getting your ideas through to your superiors is very important. Secondly, you will have to converse in a foreign language. Both these factors, when put together, in an international setting give us a good challenge. You might not feel satisfied at first but that is a part of the journey. You will start noticing your mistakes and will start improving. This will give you confidence as well as the courage to put your ideas forth and talk more openly to build relations!
  2. Communication:
Corporate communication is much more different than two people having a conversation. The major 4 major communication skills that you can gain from an international environment are
ACTIVE LISTENING:-
Active listening implies giving close consideration to the individual who is addressing you. Individuals who are attentive are very much respected. While it appears to be simple, this is an expertise that can be difficult to create and improve. You can be an attentive person by concentrating on the speaker, staying away from interruptions like mobile phones, workstations or different undertakings and by preparing questions, remarks or thoughts to keenly react.
COMMUNICATION STYLE:-
Various styles of communication skills are suitable for various circumstances. To utilize your relational abilities, it's imperative to think about your crowd and the best organization to speak with them.
For instance, when speaking with a potential boss, it's smarter to send a formal email or call them on the telephone. Contingent upon the circumstance, you may even need to send a formal, composed letter over different types of communication. In the working environment, you may think that its simpler to convey complex data face to face or by means of a video meeting than in a long, thick email.
CONFIDENCE:-
In the working environment, individuals are bound to react to thoughts that are given certainty. There are numerous approaches to seem confident, for example, looking in eyes when you're talking to somebody, sitting up straight with your shoulders open and being clear about your thoughts. You'll discover Confidence proves to be useful at work as well as during the prospective employee meeting process also, which is very normal when you are working in the corporate world.
FEEDBACK:-
Effective communicators can acknowledge basic criticism and give a useful contribution to other people. Criticism should respond to questions, give arrangements or help reinforce the venture or subject within reach.
3.  Time management: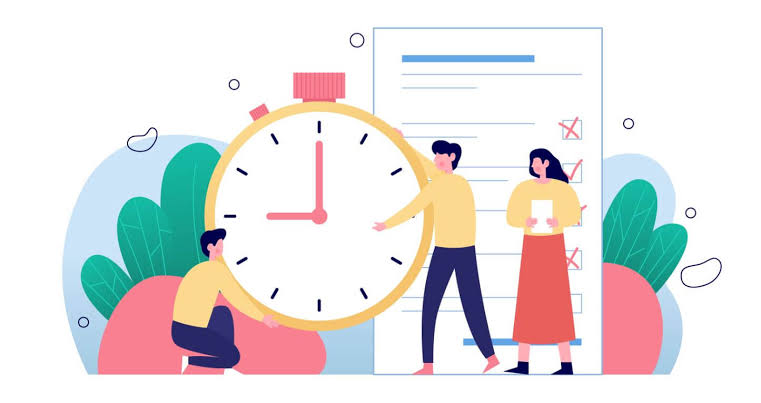 You as a student is well aware of deadlines and time management when it comes to studying and submitting assignments but, it is very different in a corporate setting. You will be working a 9 to 5 job which is a major part of the day so utilise it!
as an intern, you're not going to have a prospectus to guide you when your deadlines are. It's upon you to manage your time and produce results. Businesses need to realize that you can organize obligations and perceive when it's proper to perform various tasks or spotlight on each specific venture in turn.
Some of the important time management skills are:-
Decision making
Strategic thinking
Problem-solving
Multitasking
Prioritizing
4. Adaptability:
One of the most fun challenges about working in an international environment is that you get to work with people who are from a different culture, in an environment that is much different from where you come from. So, to understand them, what they need and what you can contribute to their company is very important yet fun. It can be something as little as them using a different method to do things to learn a whole new software to support the company's needs. At the end of the day, you are gaining new skills and practical knowledge!
The present work culture — regardless of whether you're planning to understudy for a startup or entrenched association — frequently requires even the most senior-level officials to wear various caps. As an assistant, one day you may wind up supporting the business group and the following day performing client care. While you may have an enthusiasm for a specific part of an industry, an ability to get comfortable with the various pieces of an association is unquestionably seen as a benefit
Adaptability isn't just about changing something or acclimating to a circumstance. It envelops having the option to impact changes in a game-plan with smoothness and practicality, with no significant mishaps.
5.  Critical Thinking:
Critical thinking alludes to your capacity to investigate and assess a circumstance or issue and structure a judgment. Thinking critically can be exhibited by an ability to pose inquiries so as to comprehend an issue from every single imaginable point, and to present innovative answers for difficulties. It's something a considerable lot of your teachers must have likely accentuated on and is profoundly esteemed by managers.
SOMEBODY WITH CRITICAL THINKING APTITUDES CAN:
Comprehend the connections between thoughts.
Decide the significance and pertinence of contentions and thoughts.
Perceive, assemble and assess contentions.
Distinguish irregularities and blunders in thinking.
 Approach issues in a predictable and deliberate manner.
After knowing about all the benefits, everybody tries to find the perfect international internship. Lucky for you, we have just the thing for you! PAX Edutainment is a company that offers international experiences to students who are willing to go the extra mile and do more!
Get on board with PAX Edutainment for a world-class internship experience, with economical packages that are open to all students who want to take their practical learning to the next level.
A blog by Aditi